This unique, 100% natural and refreshing Craft Cider is obtained after 5 years of continuous work to finally blend the best heirloom sharp Cider apples grown in Finca Gallinal, our orchard in Asturias (Spain).
EXNER
CRAFT APPLE CARBONATED CIDER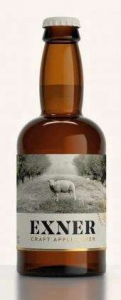 NOTES
AUTHENTIC
100% pure juice from 100% cider apples.
NATURAL
Not from Concentrate. Gluten-Free. Lower calories than other alcoholic beverages.
RAW
Directly from our orchard FINCA GALLINAL in Asturias (Spain). Following traditional harvesting and fermentation methods.
REFRESHING
Fine, dry, balanced, slightly sparkling. Intense aromas directly from the variety, predominating herbaceous and balsamic memories. On the palate it is light and you will experience outstanding balanced acidity and sweetness.
 VERSATILE
Suited for drinking alone or mixed-in cocktails. At mid-day, during meals, before and after dinner. Ideal with savory dishes, seafood, and cheese.
Vintage: n/a
Type: Craft Apple Carbonated Cider
Varietal:100% cider apples.
Alc: 5.5%
Region: Asturias
Maker: Finca Gallinal
All of the wines at Cardel Wines are carefully chosen for the natural,
organic properties and unique tasting notes.
If you are interested in setting up a tasting of our
Spanish wine portfolio please get in touch.
We look forward to serving you!