Since 1938
The Castañón Cider Mill was founded by my maternal grandfather, Alfredo García Menéndez, in 1938.
Formerly making his living transporting passengers on the Quintes-Gijón-Quintes route in a coach of his own, he lost his job when the vehicle was confiscated during the war. The coach turned up in a completely unserviceable state in Valladolid two years later and so he sold it as scrap for some 12,000 pesetas. Using this money and some savings he had, he built the main building of the cider mill.
This was where his small production and sale of cider commenced, which years later continued with the business run by his son (my father), Julián Gil Castañón, growing little-by-little each year in terms of new vats and machinery.
My father passed away in 1982 while I was doing my military service. With the support of my mother and my sister, I decided to continue his work and, through a great deal of both economic and sentimental effort, I gradually created the cider mill located up until recently in the neighbourhood de Santa Ana, in Quintes, famous for the restaurant and festivities devoted to Santa Ana that were organised there.
Due to the lack of land around the property that would allow extensions to be made to it, we decided to build another, new cider mill on an estate we bought not far from the original site, in the municipality of Villaviciosa. New facilities that we hope you will be to your liking, where you can visit our cider mill and taste our natural cider.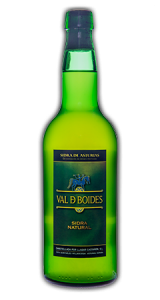 CIDER MAKING NOTES
A cider made from Asturian apples that the "Cider of Asturias" Protected Designation of Origin Regulatory Board has determined as being valid varieties for making this cider in terms of the parameters of acidity, volatility, etc., considered in the regulations.
It presents a pale yellow cider with a fruity aroma, pleasant taste and smell and a touch of fixed acidity (characteristic of these varieties) that highlights its freshness.
It is a perfect accompaniment for fish, seafood and meats, as well as for sharing different tapas among friends. Preferably served by pouring from a height (in Asturian, escanciando), or at the table, in a very thin cider glass.
Vintage: 2020
Wine Type: Cider
Varietal: 100% Cider Apples
Alc: 6%
Region: Asturias
Wine Maker: Cidra Castanon
All of the wines at Cardel Wines are carefully chosen for the natural,
organic properties and unique tasting notes.
If you are interested in setting up a tasting of our
Spanish wine portfolio please get in touch.
We look forward to serving you!